Creating an offline GnuPG master key with Yubikey-stored subkeys
Published on Aug 11, 2016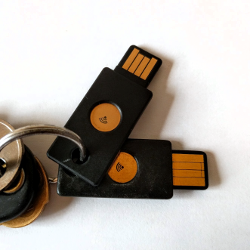 I recently noticed that I'd accidentally lost my previous GPG private key — whoops. It was on a drive that I'd since formatted and used for a fair amount of time, so there's no hope of getting it back (but, on the plus side, there's also no risk of anyone else getting their hands on it). I could have created a new one in a few seconds and been done with it, but I decided to treat it as an exercise in doing things properly.
Background: GPG? Yubikey?
GPG or GnuPG is short for Gnu Privacy Guard, which is a suite of applications that provide cryptographic privacy and authentication functionality. At a basic level, it works in a similar way to HTTPS certificates: each user has a public key which is shared widely, and a private key that is unique to them. You can use someone else's public key to encrypt messages so only they can see them, and use your own private key to sign content so that others can verify it came from you.
A Yubikey is a small hardware device that offers two-factor authentication. Most Yubikey models also act as smartcards and allow you to store OpenPGP credentials on them.